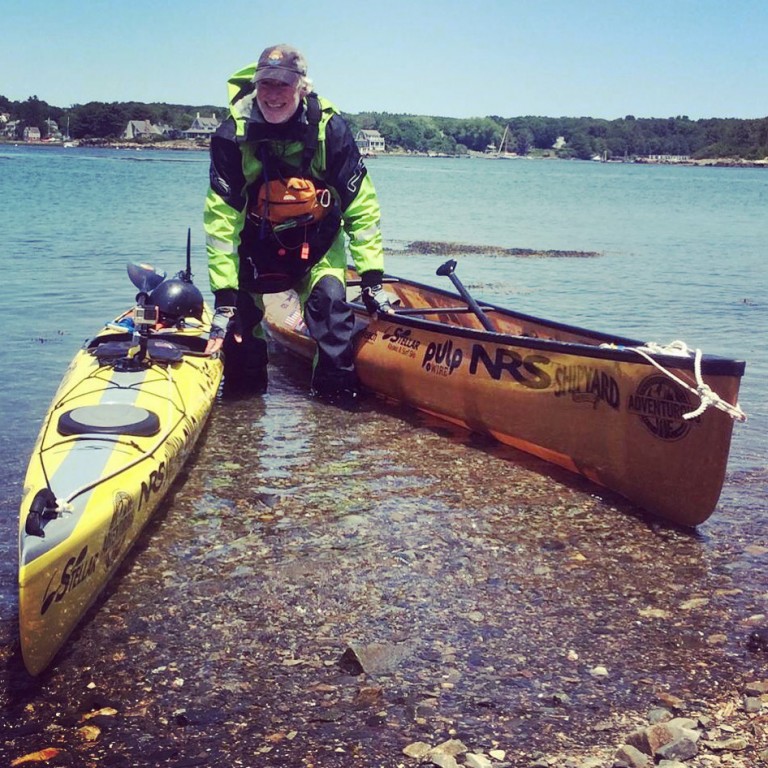 It was a year ago that John Connelly became the first paddler to both canoe the Northern Forest Canoe Trail (740 miles) in northern New England and kayak the Maine Island Trail (375 miles), connecting them via the Saint John River and Bay of Fundy (385 miles) in New Brunswick. The grand total? 1,500 miles.
Recently, Newbury Kayak & Canoe in Newbury, Mass., hosted John to give a presentation. Present were sponsors Maine Island Trail Assn., and the Northern Forest Canoe Trail as well as an enraptured crowd, reliving his adventures vicariously.
How much water did you take?
Did you ever capsize?
Would you do it again?
What was your favorite spot?
It was interesting to hear his talk to see what message stayed with him a year later. See "Paddlequest 1500: An Expedition to Inspire Outdoor Desire," ACK, September 2016 where we talked to John right after he returned from his epic journey.
Although John was alone during his expedition, he posted his whereabouts on his website, received thousands of "followers" and was often greeted by "Trail Angels" who knew where he was offering encouragement … and beer.
He calls the expedition as challenging, rewarding, and eye-opening. There was the drama… told to stand down by the Royal Canadian Mounted Police, when they thought he was a canoeist who entered the country illegally (not); and violent storms, as in crossing Mooselookmeguntic Lake, where it was safer to keep going than to turn into shore for protection, through rain, sleet, snow, and vicious winds.
John, who was passing the big 6-Oh, was more than up to the challenge. He has spent 19 years in the whitewater rafting industry and ten years in management at L.L.Bean as leader of the L.L.Bean Outdoor Discovery Schools. He was a member of the U.S. Canoe and Kayak Team, competing in whitewater World Championships and World Cup competitions. He co-authored "Appalachian Whitewater – The Northern States," a guidebook for rivers from West Virginia to Maine. He is a risk management consultant, is the President and Chief Experience Officer of Adventurous Joe Coffee LLC. John lives in Falmouth, Maine with his wife, Nicole.
He is writing a book and just finished revising a draft. I would urge everyone to read it when published. Aside from being a terrific story teller, he has a great deal of knowledge about both river and sea conditions, and is in general an all around good guy.
Several highlights of his talk: He started in April but waited two weeks after ice-out to make sure the lakes he was paddling wouldn't freeze on him overnight and leave him stranded sans snowshoes. A favorite place was the Nulhegan River in Vermont, a 15-mile tributary of the Connecticut River, where it's possible to run the entire river.
The most remote he experienced was in the segue from NFCT to MIT, no maps or guides, and he relied on old pals with local knowledge to accompany him on that stretch, culminating in going through the Reversing Falls at St. Johns, where even someone used to high water was awed by the dynamics of that water flow. Needless to say, he made it through without mishap. Plus he didn't capsize once on the trip.
He wonders if anyone has ever found a level spot to camp on Halifax Island on the Maine coast. He encountered eagles (dozens in one day) and whales. He lost more than 30 pounds but ate well.
He also presumably drank good fair-market coffee, as owner of Adventurous Joe Coffee.
His main post-trip mantra? Go light. Don't wear yourself out on hauling equipment around. He planned his gear so he was able to make one-way-only portages on NFCT, for example.
These and many more interesting tips John shared. The book should be a good read from a person who is clearly comfortable in wilderness waterways, is keen on being fit, having the right equipment, maintaining community, knows route planning and navigation (no off days for fog), an unfailing belief in how outdoor experience leads us into a profound stewardship of natural resources… and sheer perseverance. Should I go on? John is inspiration to us all.
Thanks to Newbury Kayak and Canoe for hosting and MITA and NFCT for sponsoring. We paddlers are all so lucky.
Check out John's upcoming presentations at www.Paddlequest1500.com.