By Tamsin Venn
This January explorer Ross Exler sets out on his quest to paddle the African Great Lakes. He plans to paddle across the three largest: Lake Malawi, Lake Tanganyika, and Lake Victoria. The expedition will be the first unsupported, human powered, solo crossing of these lakes.
The total distance is about 1,000 miles of kayaking and 600 miles of biking from lake to lake through remote regions of Malawi, Mozambique, Tanzania, and Uganda. Exler will carry everything he needs, including a folding expedition kayak, folding bicycle, and folding bicycle trailer.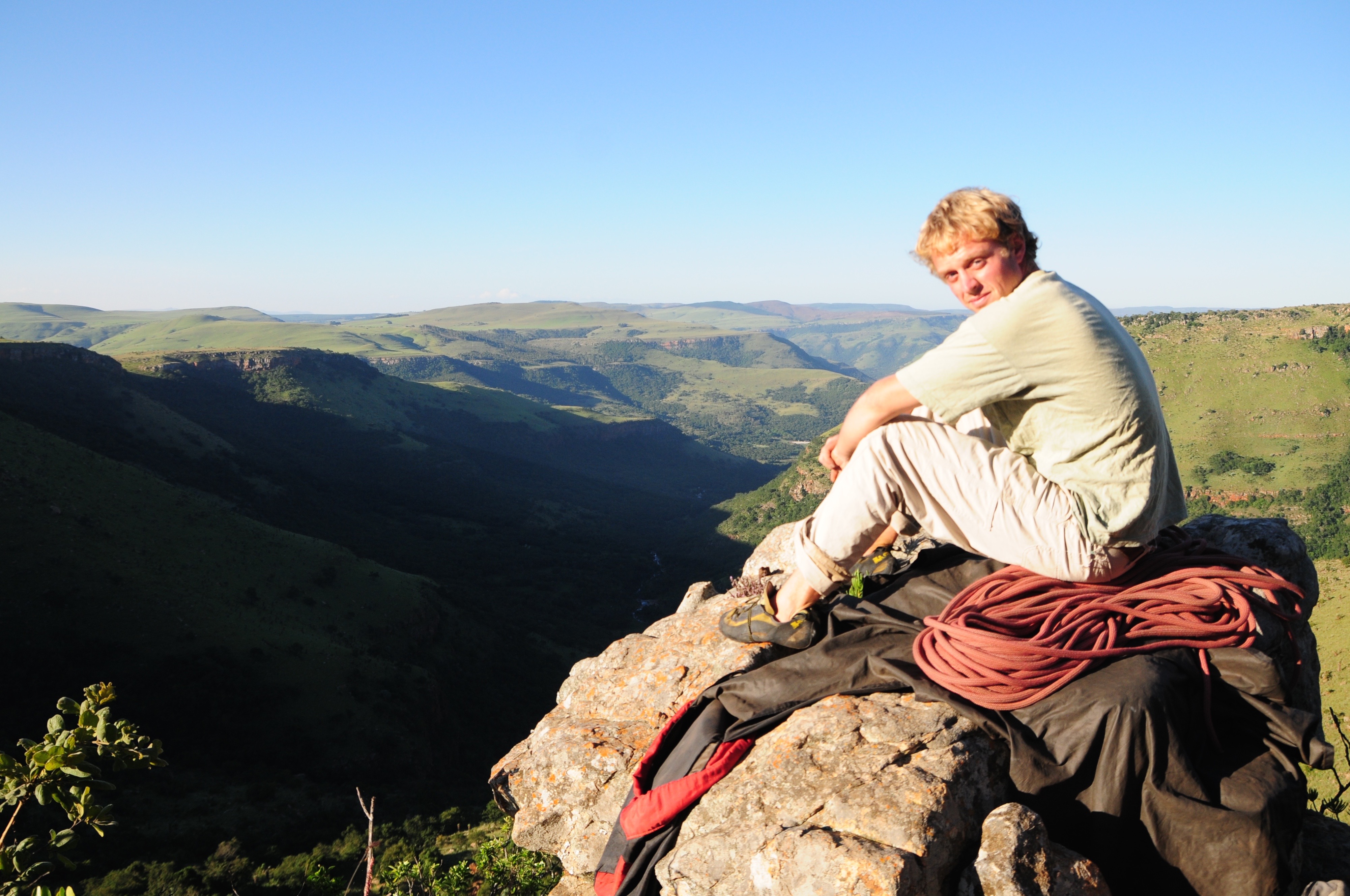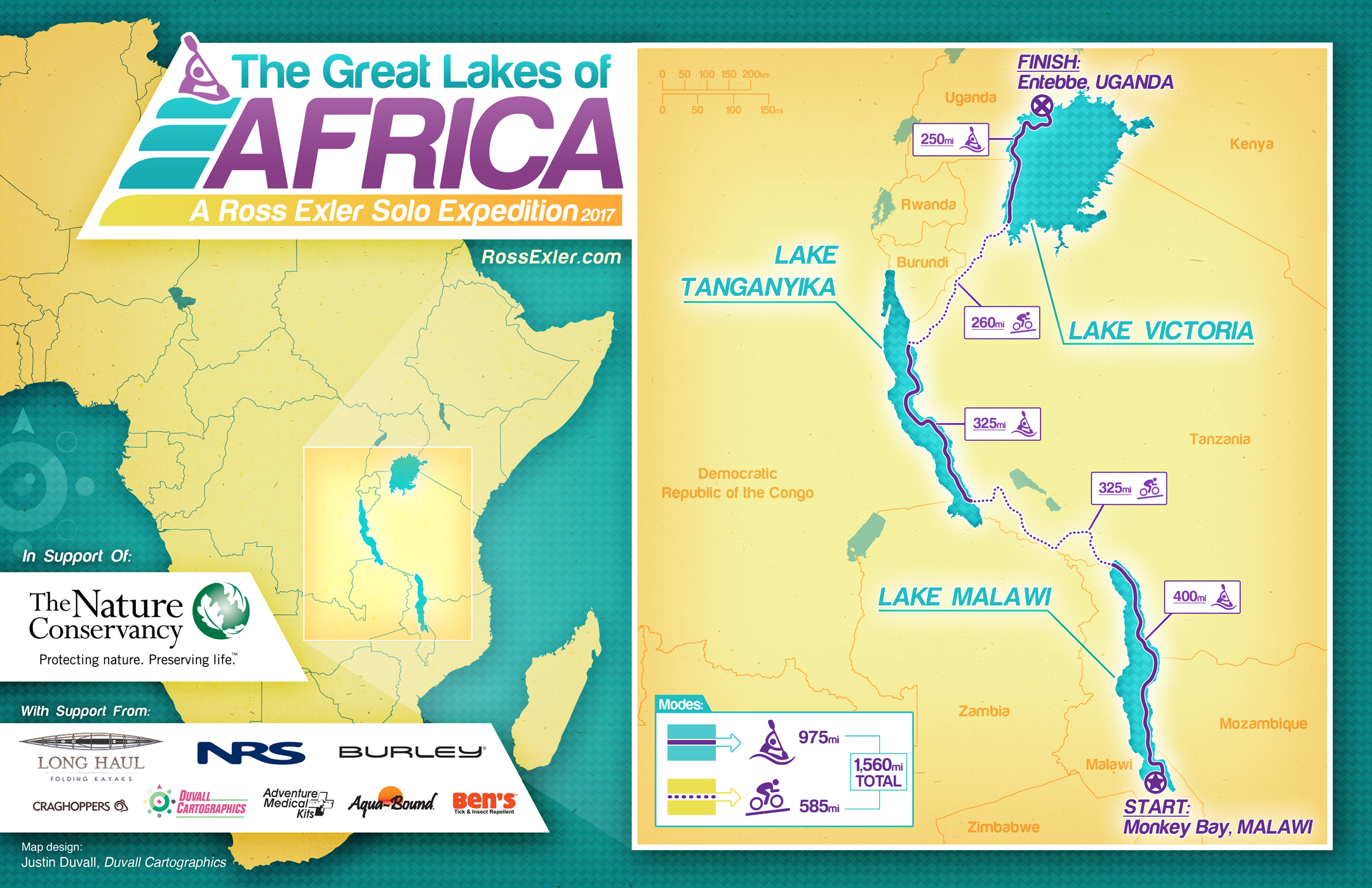 At press time, Exler was in Malawi waiting for a cyclone forming off the coast of Madagascar to pass before setting out. "The lake is looking massive and beautiful and I'm very excited to get going," he says. The reason for his trip?
"I love Africa," says Exler. "There are big animals, the landscapes are beautiful, the people are charming and endearing even when their living situation is very difficult. I go back there frequently, mostly recently for three months last winter to Botswana and Namibia in the Kalahiri. It's a beautiful part of the world."
He is also a man on a mission. He will be be working closely with The Nature Conservancy to promote awareness about the region and the work that it's doing.
He writes, "The African Great Lakes region is extraordinarily important for vertebrate diversity, containing an estimated ten percent of the world's species of fish. The lakes also contain approximately 25 percent of the world's unfrozen freshwater. In addition to their ecological significance, the region's fish and water are essential resources for the millions of people living along the shores of the lakes. Unfortunately, the lakes are under threat from invasive species, increases of sediment and nutrient inputs from deforestation and untreated sewage, over fishing, and the myriad impacts of poverty and war."
No stranger to arduous journeys, Exler notes, "I've done a number of these large solo expeditions. I've got a background in biology and am drawn to these remote areas. To be by yourself and travel over a large area, that is the way to really experience it." His most recent expedition was traveling 2,000 miles of the 4,000-mile-long Amazon River through Peru, Columbia, and Brazil for four months on a motorized canoe.
For this expedition, Exler needed a real boat plus a way to get it from lake to lake over roads. He reached out to Mark Eckhart at Long Haul Folding Kayaks, a low-key kayak company in Cedaredge, Colo. "Mark Eckhart was very enthusiastic and very helpful," says Exler who refers to the kayak as a very high quality but artisanal project. The kayaks are made of wood frame components of ash hardwood and birch laminate with a rugged deck fabric of either cotton or acrylic. The company's mission is to provide a safe and reliable way or reaching the most remote locations in the world. In the fall Exler went out to Colorado to pick up the kayak from Eckhart.
"It's important too that he cares about how it goes for me and takes a lot of pride in his product," he says.
Long Haul built the boat around a rugged, collapsible Burley bike trailer to make sure it fit inside the boat and made a custom skin to accommodate the bike. Exler will pack the boat up and put in on the trailer, and will bike the couple of hundred miles to the next lake.
"At night, I will wilderness camp or stay in small villages, relying on the kindness of local people – a reliance that has been rewarded time and again by good natured people in remote areas of the world. It is my hope to document the trip in a way that can bring you along to witness the splendor of this incredible place, and maybe to see some hippos and crocodiles from a safe distance."
The itinerary is a starting point on the south end of Lake Malawi, at Monkey Bay, go through a portion of Mozambique and Tanzania, for 400 miles, then he will bike up and over to the Lake Tanganyika for 325 miles, then paddle up to Kigoma in Tanzania, or the vast majority of the lake. The lake ends in Burundi, but it has become a dangerous country, unacceptably dangerous. Then he will bike to the southwest corner of Lake Victoria, and paddle up to the northern end and finish in Entebbe, Uganda for 250 miles. Exler plans to take three months to complete the expedition and hopes to end the journey in March.
Exler is an accomplished photographer and story teller so look forward to stunning photos and finely spun stories.
To follow, www.RossExler.com