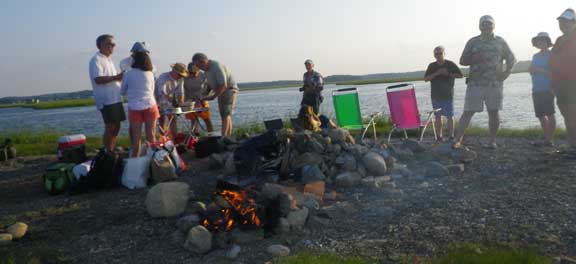 Summer paddling continues in the beautiful Ipwich marshes on the long days. Each day, you get three major chances to get on the water: early morning, sunrise about 5:30; a long stretch of day; and evening until sunset at about 8:15 (and beyond with headlamp). This tide cycle (high tide around 9 p.m.), we have been favoring the evening.
Imagine going out with a couple of friends, and arriving on an island with a dinner picnic in full swing. That is what happened the other evening. Most had arrived by motorboat and consequently had tucked in gourmet fare, fine wines, and wood for a blazing fire on this island situated at the crossroads of two towns, so it's easy to meet up. Also, the current is swift, and there is rock underfoot, in an area of mud and beach, so it's a favorite spot for both fishermen and terns.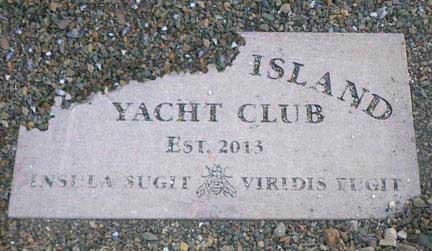 Evening entertainment was watching the terns dive. Then we all put our feet on the club motto etched in stone and buried on the shore. It turns out the motto was put together by a group of lads whose high school Latin recall was a little bent. Here's what they came up with: Insula Sugit, Viridis Fugit. Island rises, green flies. The latter part refers to the greenheads that plague boaters in the marsh in July. They were remarkably at bay, it has really not been a bad season for the little buggers, at least around here. Cranes Beach has only had up the "Greenhead Flies, No Refunds," up a couple of times so far this July. Hurray!
The trip home in the gathering dark, with a cooling breeze pushing the day's heat away, our bows cutting the still, black water, was the perfect end of another fantastic evening paddle.
* Time flies