"Seal Seeker" was christened and launched for sea trials yesterday in Plum Island Sound off Pavilion Beach in Ipswich. Seal Seeker is an 18-foot KudzuCraft skin-on-frame design, the Long Shot, with a few modifications:
1) More extreme bow overhang.
2) Bow and stern Valley Canoe-style rubber hatches.
3) Grab lines along gunwales.
4) Padded seat.

Editor David Eden: I used 10-oz ballistic nylon and two-part polyurethane colored with rusty earth pigment to simulate seal skin. That and the hatches added to the final weight. I couldn't get the cockpit rim to screw together from underneath as directed, so I ran 1 1/4-inch silicon bronze screws in from above. The screws to hold down the hatches are also silicon bronze, and the staples to pull the skin taut around the openings are rust-proof Monel. Tammy, who paddles an old Necky Arluk 1,8. said that she thought the Long Shot was a terrific design and paddled more easily than many of the boats she has sampled! Her only complaint was that her hands rubbed on the cockpit rim. I said that the Long Shot was designed for heavier people like me, but that KudzuCraft had a smaller version for lighter people, the Short Shot. Maybe the next build…?
The really depressing thing is that I am SMILING in all the pictures. No wonder everyone thinks I am a grouch!
In some of the photos, you can see my "whalebone" rub keel, made from a nylon carving board. There is one in the stern, as well.

The finished frame. So pretty, I hate to skin it.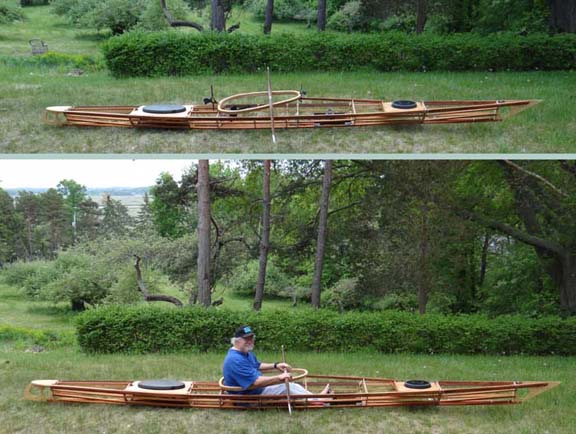 Hauling out of the "workshop," our screen porch.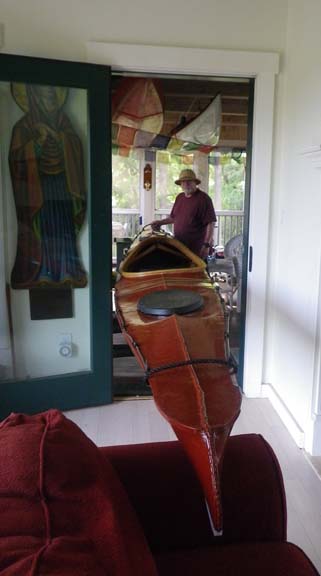 An old paddling friend, Peter Moore, who came down with his wife, Alicia, to share the fun!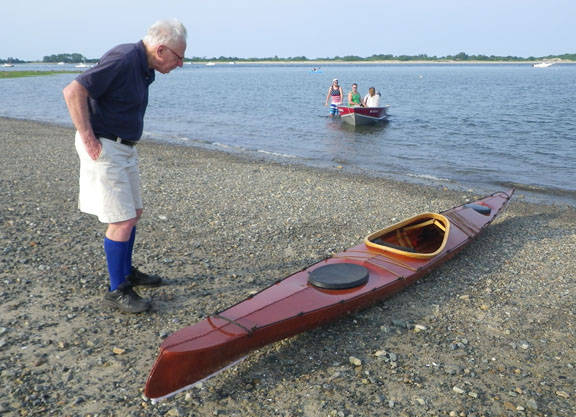 "I christen thee Seal Seeker." Have to get that translated to Greenlandic…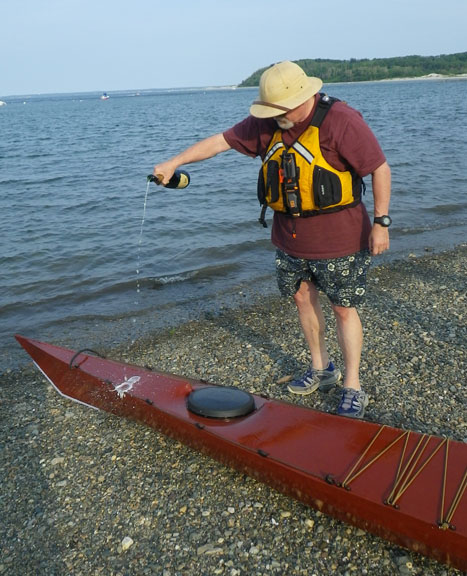 Tammy and I and Peter and Alicia share some bubbly.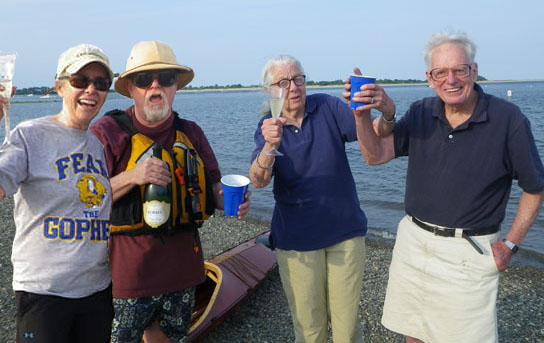 Off I go. Although you can't tell from the photo, there is some nasty stuff, little boils and refracting waves off the point to the right background, where the Ipswich River meets the incoming tide, which is pushing through at this point at about three knots.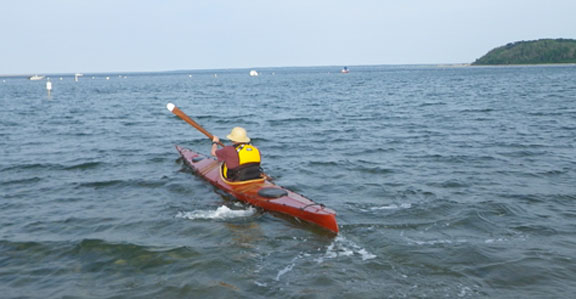 First run. Stable, dry, tracks like a train, steers like a cow. I was hesitant to lean hard without a sprayskirt, but the boat is hard to turn It may be the bow and stern rubrails. which accentuate the keel. Tomorrow, I will wear the skirt and lay Seal Seeker right down on her cheeks. There is a line of sandbars almost straight ahead of me. 22 years ago, while waiting for a date with the lady whom I was to marry, i was surfing off them in a fog one October morning. I glanced to my right, and there was a seal surfing the clear wave right next to me! Never before or since – we were the only living beings on the water that day, And so – Seal Seeker. (Update – I found a website that will translate English to Greenlandic. The very nice site owner, Nuka Møller, translated Seal Seeker as Puisinniaq.)

.